Welcome to Life Spire Assisted Living in Albuquerque, NM.
Albuquerque Assisted Living by Life Spire has two vibrant assisted living communities in Albuquerque and one in Rio Rancho, NM. Our Albuquerque Assisted Living facility west side location is ideally located directly off of North Coors and Paseo del Norte for quiet residential living. Our Rio Rancho Assisted Care facility is tucked into a swiftly growing but quiet residential area within walking distance from the Presbyterian Rust Medical Center.
At the Life Spire Assisted Living facilities in Albuquerque and Rio Rancho, we offer many amenities that help us in our dedication to providing our residents with the best care possible.
Our courtyard provides our residents with a picturesque space to enjoy the outdoors and fresh air. Our courtyards include water features and a fireplace in a beautifully landscaped environment for quiet moments of relaxation.
Aspire…
To live in a home that is full of life, where residents maintain their independence, dignity and privacy. Start your day in the fitness area, take a walk or visit with your grand-children or volunteer at a local site. Live where health and wellness programs promote independence and services exceed expectations. Rooms can be furnished, private baths available, professional, caring and wellness staff are on site 24/7.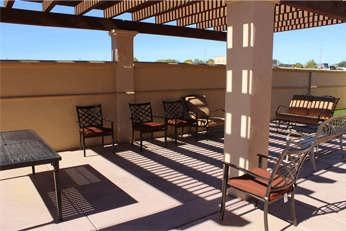 Imagine…
A place that is a pleasure to call home, where residence can relax by having their hair done or a manicure, go shopping out to lunch or scenic drives, or family. A home with nurse coverage and health monitoring. Activities specifically designed for seniors. Spiritual activities for residence and their families, as well as life enrichment activities, recognizing the effects of children, pets, music and social interaction in the community.